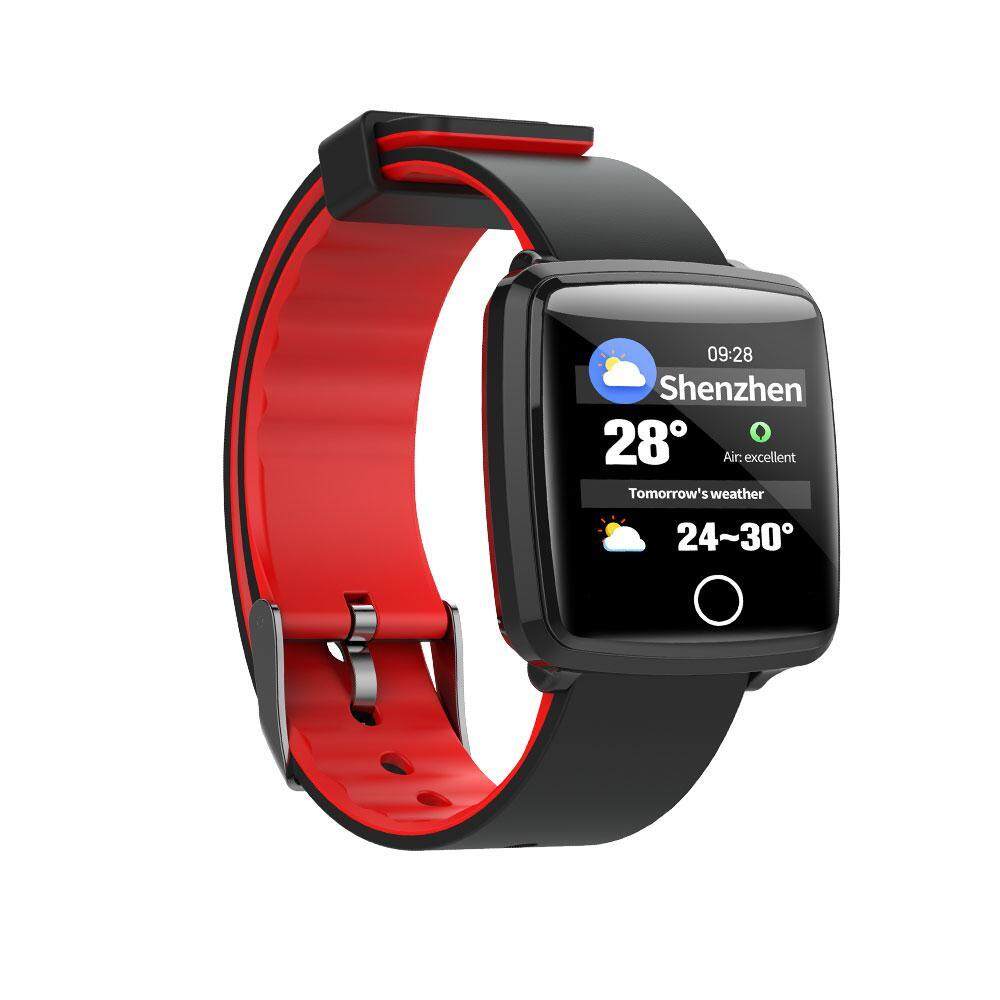 Foonee Bluetooth Smart Watch, Foonee, Touch Screen Sports Smart Watch Fitness Tracker Watch Heart Rate Monitor Wireless Smart Bracelet Waterproof Sports Smart Bracelet สมาร์ทวอทช์
อิเล็กทรอนิกส์ Foonee Bluetooth Smart Watch, Foonee, Touch Screen Sports Smart Watch Fitness Tracker Watch Heart Rate Monitor Wireless Smart Bracelet Waterproof Sports Smart Bracelet
ราคาก่อนใช้ส่วนลด

611

บาท
Foonee
Product Description: What can you do with our smart watch?  – Running mode: record exercise duration, exercise heart rate, calorie consumption, number of exercise steps  – Step count mode: used to record the number of moving steps  – Sports distance: record the walking distance of the day  – Calorie consumption: shows the energy consumed during the day  – Blood pressure test: keep abreast of health status  – Heart rate test: manual test and automatic monitoring (automatic monitoring of heart rate function set by APP)  – Sleep monitoring: record the sleep time last night  – Call function: support call reminder, hang up, refuse  – Heart rate overspeed reminder: APP settings to remind users when the heart rate is too fast  – Alarm reminder: set alarm clock through APP, support multiple sets of alarm settings  – Find phone: Enable this feature from the app to prevent lost digital partners  – Push: Support all message reminders on your phone  – Long seat reminder: APP sets long seat reminder interval  – Other features: wear detection, stopwatch, countdown, remote photo, wristband setup password, time 12 hour system, OTA firmware update Specifications: Watch size: 264*37.5*10.5MM Main chip: NRF52832 FLASH: 32M Gravity sensor: 3D accelerated Bosch Screen: TFT IPS Screen size: 1.3 inches Resolution: 240*240 Vibration motor: support Waterproof level: IP67 Battery: 180mAh Use time: 5-10 days
ข้อมูลสินค้า Foonee Bluetooth Smart Watch, Foonee, Touch Screen Sports Smart Watch Fitness Tracker Watch Heart Rate Monitor Wireless Smart Bracelet Waterproof Sports Smart Bracelet
[Multi-Function] This powerful fitness tracker features an easy-to-read large color OLED screen and a high-sensitivity touch sensor. It accurately records all-day activities, including steps, calories burned and walking distance.
[Heart Rate and Sleep Monitoring] Active bracelets can monitor your heart rate, help you exercise scientifically, and accurately monitor the total effective sleep time and movements every night, so you can better understand your sleep quality.
[Compatibility] The app supports Android 4.4 and above, IOS 8.0 and above, supports Bluetooth 4.0 or above (iPhone 4S, iPhone 5 / 5S / 5C, iPhone 6 / 6Splus, iPhone 7 / 7S plus, iPhone8 iPhoneX, etc.), Android 4.4 Or above (Huawei Mate7 / P9, LG, Samsung, etc.)
[Waterproof] Wash your hands and swim, you can wear them with confidence. IP67 waterproof and dustproof level can protect particles, dust, sweat and other substances in daily life, and can be worn while swimming. There is no pressure even if you swim in the water.
##Tag##
# ของใหม่สมาร์ทวอทช์Foonee Bluetooth Smart Watch, Foonee, Touch Screen Sports Smart Watch Fitness Tracker Watch Heart Rate Monitor Wireless Smart Bracelet Waterproof Sports Smart Bracelet,
# ลดกระหน่ำ Foonee Bluetooth Smart Watch, Foonee, Touch Screen Sports Smart Watch Fitness Tracker Watch Heart Rate Monitor Wireless Smart Bracelet Waterproof Sports Smart Bracelet
,# ลดล้างสต๊อกอุปกรณ์ไอทีสวมใส่,
# ลดล้างสต๊อก Foonee Bluetooth Smart Watch, Foonee, Touch Screen Sports Smart Watch Fitness Tracker Watch Heart Rate Monitor Wireless Smart Bracelet Waterproof Sports Smart Bracelet
,# ลดกระหน่ำ อุปกรณ์ไอทีสวมใส่ Foonee Bluetooth Smart Watch, Foonee, Touch Screen Sports Smart Watch Fitness Tracker Watch Heart Rate Monitor Wireless Smart Bracelet Waterproof Sports Smart Bracelet