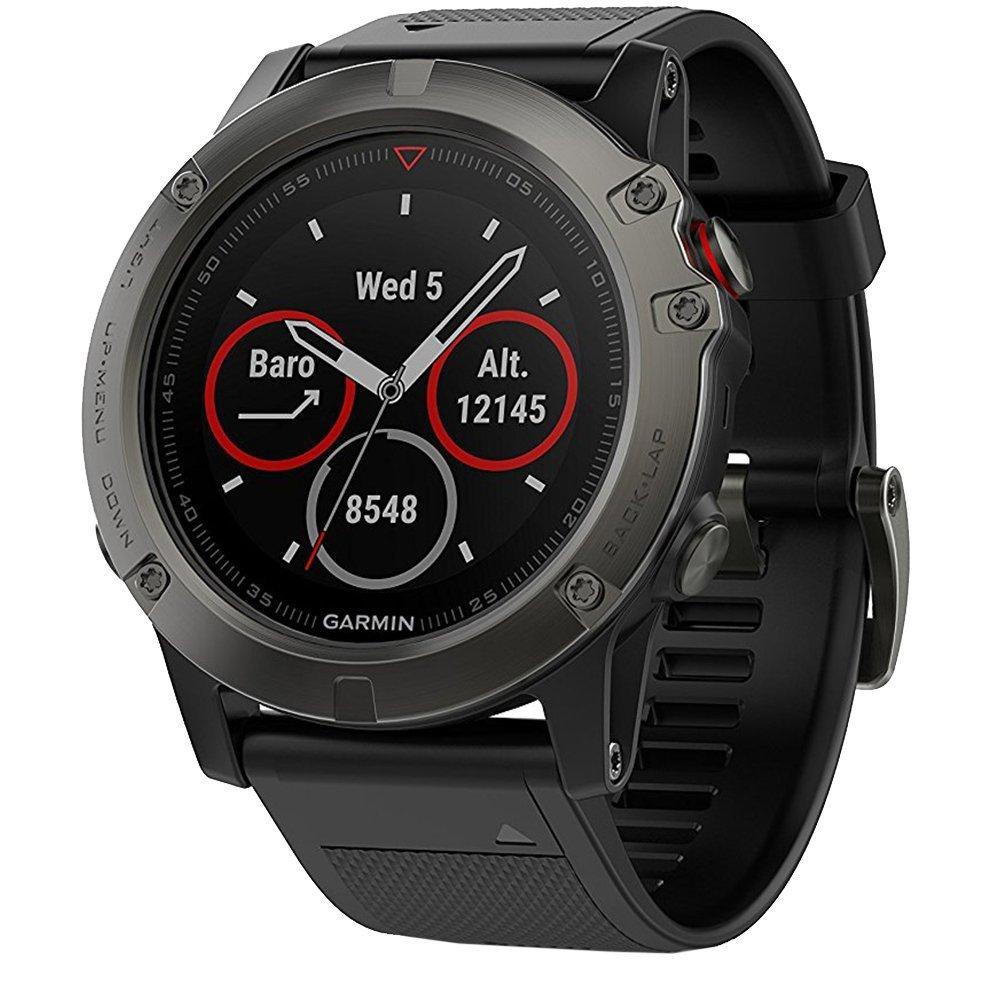 Garmin Fenix 5X Sapphire Edition Multi-Sport Training GPS Watch – [Slate Gray with Black Band] สมาร์ทวอทช์
อิเล็กทรอนิกส์ Garmin Fenix 5X Sapphire Edition Multi-Sport Training GPS Watch – [Slate Gray with Black Band]
ราคาก่อนใช้ส่วนลด

17890

บาท
Garmin
Combining world-class performance with the best features of our fitness and outdoor watches, Fenix 5X is the premiere multisport training companion. It's the first Fenix series watch to offer full-color TOPO U.S. mapping for at-a-glance navigation and location reference – so you can beat yesterday, and be sure of getting back. You get advanced features such as Elevate wrist heart rate technology, built-in activity profiles, performance metrics and training status readings that show the fitness-enhancing effects of your workout. Smart notifications help you stay in touch on the go. Plus, QuickFit bands let you tailor the look to any lifestyle or activity – no tools required. Go from workplace to workout without breaking stride.

Fenix 5X

Multisport GPS Watch with Full-color Map Guidance

Ultimate multisport GPS watch with full-color TOPO U.S. mapping, routable cycling maps and other outdoor navigation features
Fit for adventure with rugged design that features stainless steel bezel, buttons and rear case
Built-in navigation sensors include GPS and GLONASS capability to track in more challenging environments than GPS alone as well as 3-axis compass, gyroscope and barometric altimeter
Put key stats at your fingertips with the performance widget that shows your training status, training load and more
Connected features include smart notifications, automatic uploads to Garmin Connect online fitness community and personalization through free watch faces and apps from our Connect IQ store

Rugged Endurance, Elegant Style

The Fenix 5X multisport watch features a protective PVD-coated stainless steel bezel and buttons and a reinforced housing for extra durability. Each watch is water-rated to 100 meters and features advanced GPS and GLONASS satellite reception to track in more challenging environments than GPS alone. You can count on long battery life in each mode of operation (varies by model, depending on settings). A bright, high-resolution, full-color Garmin Chroma Display with LED backlighting assures great readability in all ambient conditions – from harsh daylight to dim lighting. Transflective technology that reflects and transmits light at the same time enables the watch face to become even more readable under intense sunlight. Sapphire editions feature a scratch-resistant sapphire lens and are also Wi-Fi-enabled so your watch can connect to your wireless network and automatically send activity uploads for sharing on Garmin Connect.

Advanced Performance Metrics

Every Fenix 5X watch is packed with sophisticated training features to help monitor your form and performance. Enhanced readouts for Training Status and Training Effect show aerobic and anaerobic benefits of your workout – so you can see how your workouts are paying off and even compare results with your peers. The VO2 max estimator crunches data, including your running speed, beats per minute and heart rate variability, to estimate the maximum volume of oxygen you can consume per minute. And other fitness metrics include recovery advisor with a recovery timer and recovery check, plus a race predictor that estimates your ideal finish time based on your current VO2 max number.

Custom Apps and Watch Faces

You can customize your Fenix 5X watch with free downloads from our Connect IQ store. Change your watch face, add data fields or get apps and widgets for information at a glance.
ข้อมูลสินค้า Garmin Fenix 5X Sapphire Edition Multi-Sport Training GPS Watch – [Slate Gray with Black Band]
Ultimate multisport GPS watch with full-color TOPO U.S. mapping, routable cycling maps and other outdoor navigation features
Fit for adventure with rugged design that features stainless steel bezel, buttons and rear case
Built-in navigation sensors include GPS and GLONASS capability to track in more challenging environments than GPS alone as well as 3-axis compass, gyroscope and barometric altimeter
Put key stats at your fingertips with the performance widget that shows your training status, training load and more
Connected features² include smart notifications, automatic uploads to Garmin Connect™ online fitness community and personalization through free watchfaces and apps from our Connect IQ™ store
Battery life: up to 12 days in smartwatch mode (depending on settings), up to 20 hours in GPS mode or up to 35 hours in UltraTrac™ battery saver mode
##Tag##
# หารีวิวสมาร์ทวอทช์Garmin Fenix 5X Sapphire Edition Multi-Sport Training GPS Watch – [Slate Gray with Black Band],
# ข้อมูล Garmin Fenix 5X Sapphire Edition Multi-Sport Training GPS Watch – [Slate Gray with Black Band]
,# เก็บเงินปลายทางอุปกรณ์ไอทีสวมใส่,
# เก็บเงินปลายทาง Garmin Fenix 5X Sapphire Edition Multi-Sport Training GPS Watch – [Slate Gray with Black Band]
,# ข้อมูล อุปกรณ์ไอทีสวมใส่ Garmin Fenix 5X Sapphire Edition Multi-Sport Training GPS Watch – [Slate Gray with Black Band]